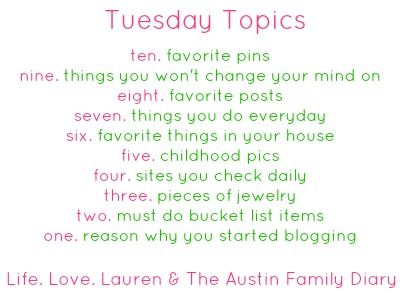 This week we are on #6.
Onto my 6 favorite Things in My House
1) My living room pillows
2) The kitchen island
I love having an island, always wanted one and especially love how big ours is. Not too giant but plenty big for 4 seats.
3) Our master bedroom closet
excuse the mess, I love this closet, it can hold some serious stuff!
4) Jones decal
It doesn't look that big in the picture but it's almost 4 ft wide
5) Boys canvases
20x24 canvases, the hubby painted for our boys shared room
6) Kitchen curtains
For fun I thought I would ask Matthew his as well
The Hubby's Favorites
1) Headboard he made
He did a great job, he knew I liked sleigh beds and upholstered, so he combined the two by sanding the top down to be rounded like a sleigh.
2) New lights
Our house had all gold/brass fixtures when we bought it, so at the beginning of this year we got new fans, pendants, entry way bowl, hallway, and dining fixture. We found a collection we liked and got all the different versions for the appropriate areas.
3) TV mount
I didn't take a picture of this but our Tv is over our fireplace and we wanted a place to house the Xbox and other items, so he bought a mount with a movable arm. The TV can come almost 2 ft from the wall, and swivel and pivot. Then he put shelves behind the tv for all the items we didn't want laying out but wanted hooked into the TV.
4) Comfy couches
When we got our new house we needed furniture and our only requirement was that it have recliners. We have found a set where every seat reclines. It's oversized too and we love it!
5) Fireplace
We didn't have one at our last house and this is one of the things that was on our wishlist. Someday we will probably fancy/ modernize it up and get rid of the brass.
6) Jones Decal
Same as above