Tomorrow I'm co-hosting Follow Friend Friday link up with
GlamHungryMom
and
ABpetite
, so since there will be new people passing through I thought today would be the perfect day for a little get to know me post such as this one.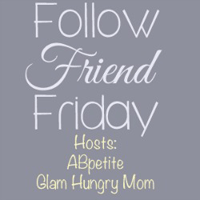 Also this wasn't my idea, I got it from
Bubbly and Buttercream
whom I just found this week because she is match up for Cara Boxes. If you haven't ever heard of them you can read about it
here
. More on Cara Boxes later!
A is for AGE
: 28
B is for BED size: Queen, would love to have a king
C is for CHORE you hate: Windows
D is for DOGS: Not a fan, had them growing up but don't plan on ever getting one of my own.
E is for ESSENTIAL start to your day: Depends on the day. I almost always take my Genesis Pure Energy and Goyin, Can't feel ready for the day until I get a shower, Try to start the morning with working out at least 5x a week
F is for FAVORITE color: Shades of Pink
G is for GOLD or silver: Love the look of all the gold trendy jewelry, but wear silver a lot more often
H is for HEIGHT: 5 Feet 5.5
I is for INSTRUMENTS you play: Absolutely none, never have and probably won't at this point
J is for JOB title: Part- Time Stay at home mom, soon to be full and Part- Time Office Manager at my hubby's Optometry office
K is for KIDS: Two boys, Noah 3 years old and Carson 18 Months
L is for LIVE: In small town central Illinois
M is for MARRIAGE: Will be 7 years in May
N is for NICKNAMES: My bf calls me Dirks (my maiden name) but other than that I really don't have any unless you count the many names my 3 year old used like Hippo and Koka.
O is for OVERNIGHT hospital stays: Only with the births of my boys.
P is for PET PEEVE: Slow walkers in public places, Smoking when I'm out of state, Laziness
Q is for QUOTES: I'm not sure on this one. Went to my pinterest board and here were a few I really like. "Sometimes on the way to the dream you get lost and find a better one" and "Create a life that feels good on the inside, not one that just looks good on the outside"
R is for RIGHTY or lefty: My husband and I are both lefty's
S is for SIBLINGS: Complicated! Most of my life 3 sisters and 1 brother. In my adulthood, I gained two more sisters!
T is for TIME you wake up: 5:30 to 6
U is for UNIVERSITY you attended: Western Illinois University
V is for VEGETABLES you dislike: Brussel sprouts?
W is for WHAT makes you run late: My fate every day depends on the cooperation of my boys
X is for XRAYS you've had: Teeth, Had some after an accident and during my 10 year spell of Chronic hives but not sure what they all were
Y is for YUMMY food: The things I would love to live off- Pasta, bread, ice cream, candy, cake and chocolate! My new health food I found I love this week is Bare Naked Maple Syrup Granola, absolutely love it. Had it every day for breakfast!
Z is for ZOO animal: I always like the water animals!
And because every post is better with pictures and my boys are stinking cute!