Today I'm linking up with
Holly
and
Jake
for Finish the Sentence.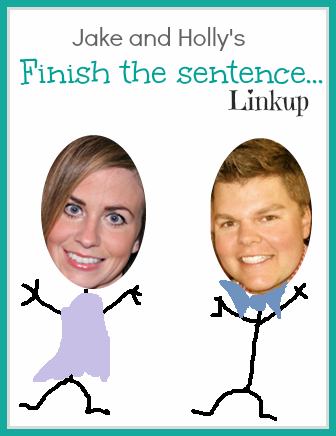 Here are the Questions we were given.....
1. People always tell me....used to tell me I was blonde. Now that my boys are cute??? That's all I can think of at the moment
2. In the movie based on my life... If it was just about me prepare yourself for boring. I'm not funny or witty at all. If it included my whole family it would be hilarious and dramatic with lots of story lines.
3. Typically, I end up regretting....Saying yes. I'm not very good at saying No, ever
4. I always ask to leave off the....everything, I'm plain Jane
5. Kim and Kanye really...need to do whatever they want. I don't follow them.
6. My Parents always reminded me...10 and 90, 10 % is what happens to you and 90% is how you react or decide to handle it.
7. Every single day I.....kiss my babies! Love them so much!
8. This one time in College.. Shows how boring I am, can't think of a good story
9. My grossest habit is... Picking everything, fingernails, toenails, lips, eyelashes. I have a serious problem!
10. My latest white lie was...Telling the boys a toy was broke when I really just didn't want to change the batteries. Noah is smarter than that so it didn't really work.
11. I know all the words to... Shapes, Counting and Colors, my boys latest favorite DVD
12. When I grow up... I want to own my clothing boutique, maybe named Five27Jones
13. Sexy time is...when I shave my legs
14. I will never, ever...Get a tattoo
If you want to join, head on over here to link up.