I'm a little late starting with these themed posts but thought it sounded like fun. This week they are on 7 so here goes.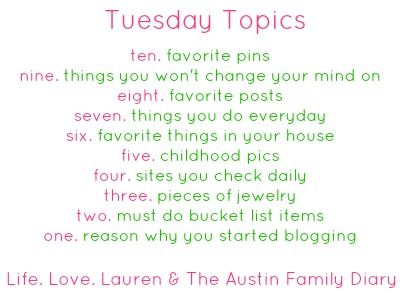 7 Things I do Everday
1) Take my Genesis Pure.... Not sure what I would do without these supplements.
2) Workout at least 5 of 7 days but on good weeks I get it in 6 of 7 days. Right now I'm running, doing some BBL, Turbo and the Elliptical. Each day I switch it up a little and trying to run at least 3x a week for 1/2 marathon traning.
3)After those workouts this girl needs a shower and to get Ready.... Can't start the day until I do
4) Pick up, pick up, and pick up. I'm a little OCD
5) Check email, facebook, instagram, and blogs. I may have a slight addiction to social media.
6) Eat! I love to eat. Somedays I'm a health nut, some days I'm just not!
7) Kiss my babies! Don't know what I would do without these boys!
This picture was this weekend at Great Grandma and Grandpas, and it's blurry but I still love it. They do share a lot of sweet moments together!
What is something you can't go a day without doing?